The D34 Xplorer-O is the sporty version of its brother, the D34 Open. A stronger looking version and a higher comfort level thanks to the complete windshield and matt black tubular superstructure covering much of the deck in the seating area and enhances the boat's image.
A boat that maintains the brand's trendy style and key design features, like the center console layout, its spectacular seating areas and solariums, as well as the surprising interior.
Always powered by the revolutionary solution of hidden outboard engines, this motorization facilitates maintenance, improves fuel consumption, performance and sound. If you were looking for a designer dayboat with a unique image, your boat is the new D34 Xplorer-O.
Artificial teak deck Flexiteek®
Tubular structure with panoramic roof
Set of two fenders (special D34 model)
Anchor support, anchor, chain and electric winch
Audio system Fusion RA7ON (+4 speakers)
LED navigation lights Lopolight®
LED decorative lights on deck
Retractable tables (on stern and the bow)
AC shore power and cable / Battery charger
Handholds with leather finishes
Carbon trims on bows and sides
Cabin with two single beds (75 x 190 cm)
Complete bathroom (electric wc)
Retractable cleats in aluminium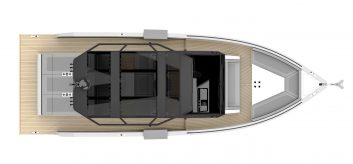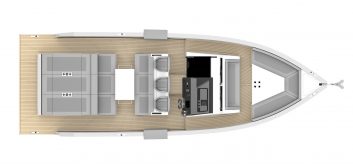 Main deck – 1 cabin – bathroom