Aimed for sea enthusiasts
The D28 Xplorer merges unprecedented habitability in its walk-around deck with different seating areas and solariums, offering safety and protection onboard thanks to its semicabined structure. 
The design of its V-shaped hull allows gliding quickly and developing a top speed up to 38 knots with maximum motorization, as well as highly comfortable navigation at cruising speed. Its generous beam and weight distribution provide wide habitability on deck. Also, it makes this boat very stable for anchoring.
A boat created to enjoy the best adventures and explore the sea like never before.
Custion and upholstery Morbern Sundance®
Carbon trims on bows and sides
Tubular structure with rigid roof and sliding hatch
Navigation system Simrad GO7 XSR(7") with depth sounder HDI
Anchor support, anchor, chain and electric winch
Audio system Fusion RA55(+2 speakers)
LED navigation lights Lopolight®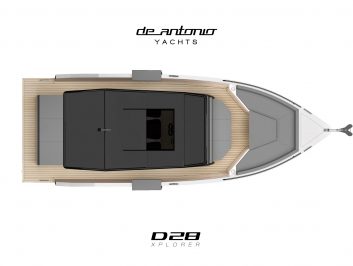 Main deck – structure roof