Sporty navigation and comfort
The D28 Cruiser is the cabined version of this length. A boat with the purest DNA of the brand, which emanates sportsmanship while offering a comfortable and wide deck space along with a cozy interior cabin. 
A wide safe space for all
A family boat, which thanks to its evolving windshield protects the occupants from the wind without renouncing the walkaround deck with a stern bathing platform.
High performance with
low maintenance
Its motorization with hidden outboard in both mono or twin-engine version gives it unmatched performance with low maintenance.What more could you want? The D28 Cruiser has it all!
Custion and upholstery Morbern Sundance®
Carbon trims on bows and sides
Tubular estructure with rigid roof and sliding hatch
Navigation system Simrad GO7 XSR(7") with depth sounder HDI
Anchor support, anchor, chain and electric winch
Audio system Fusion RA55(+2 speakers)
LED navitation lights Lopolight®
Main deck – Modular distribution opc. 1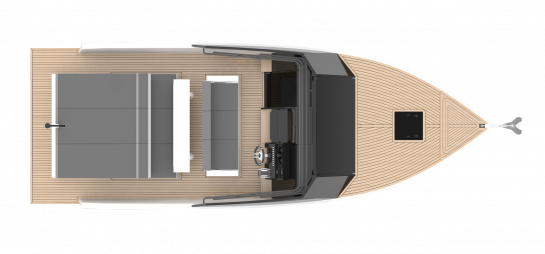 Interior – sofa – two beds – bathroom